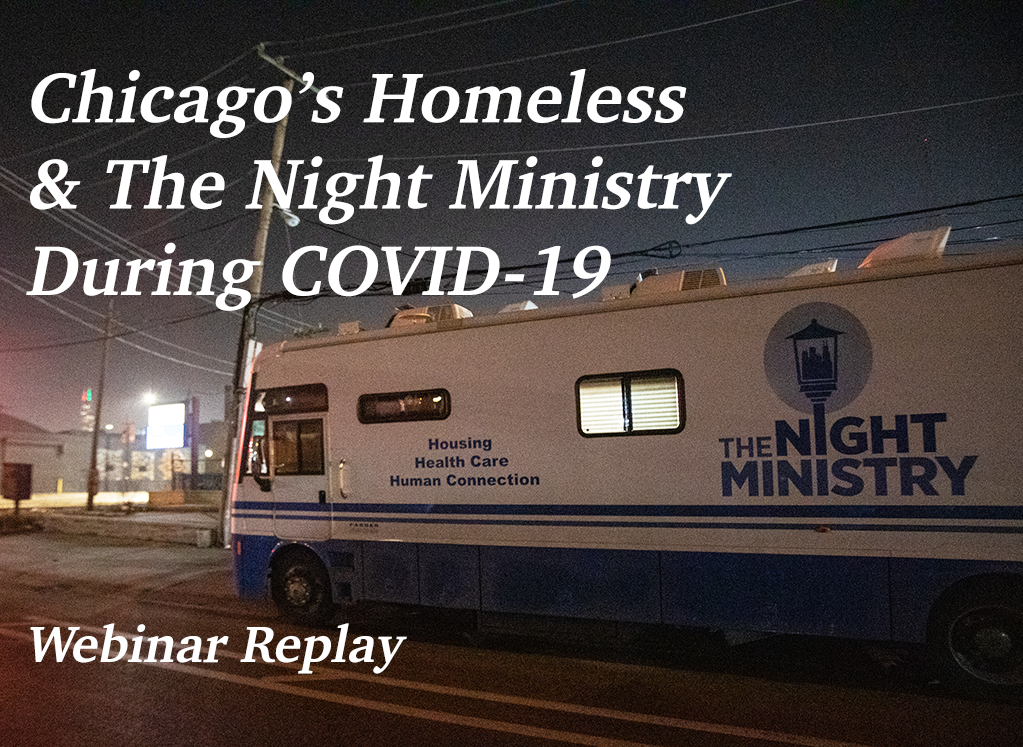 How are the coronavirus and its impact on our economy and society affecting young people, adults, and families experiencing homelessness and poverty?
What adjustments has The Night Ministry made so it can continue to serve during these challenging times?
What can you do to help support our work and to help make sure the needs of Chicago's homeless and poor are addressed?
Find out by watching the replay of our April 9, 2020, webinar, featuring:
David Wywialowski, Director of Outreach & Health Ministry
Betsy Carlson, Director of Youth Programs
Tedd Peso, Advocacy & Community Affairs Manager
Mary Poliwka, Community Health Manager
Here is follow-up information on a few of the items discussed in the webinar for our friends looking for ways to continue supporting our mission at this time.
1) Support our work with a financial donation or a donation of in-kind goods. We have added a COVID-19 page to our website, where you can find our latest needs: www.thenightministry.org/covid19#help
2) If you are a volunteer who typically prepares and serves food, we can still use your support. We are still providing food at all of our Health Outreach Bus stops, to every encampment our Street Medicine Teams visit, and to guests at The Crib. Check out the website to learn about how you can support our meal programs while practicing social distancing.

3) You can support the nutritional needs of the individuals that The Night Ministry serves by volunteering at the Greater Chicago Food Depository. For volunteers ages 18-60, the Greater Chicago Food Depository has created volunteer opportunities to support social distancing. Get started by visiting www.chicagosfoodbank.org/volunteer or by calling 773-247-3663. When you volunteer with the Greater Chicago Food Depository, you can earn food credits for he Night Ministry's programs. If you are registering as a volunteer with them for the first time online, search for and select "The Night Ministry (A00305) SH00050" in the "I would like to volunteer hours to credit this agency" section. Volunteers who are already registered with the Greater Chicago Food Depository can update their existing volunteer profiles to select us as their agency to credit.
4) Follow The Night Ministry's Social Media accounts and participate in our advocacy opportunities. We will be sharing opportunities for you to call your elected officials to show support for homeless youth programming, homelessness prevention funding, free and charitable health care, and eviction prevention.