1 minute reading time
(277 words)
Volunteering with The Night Ministry Is Personal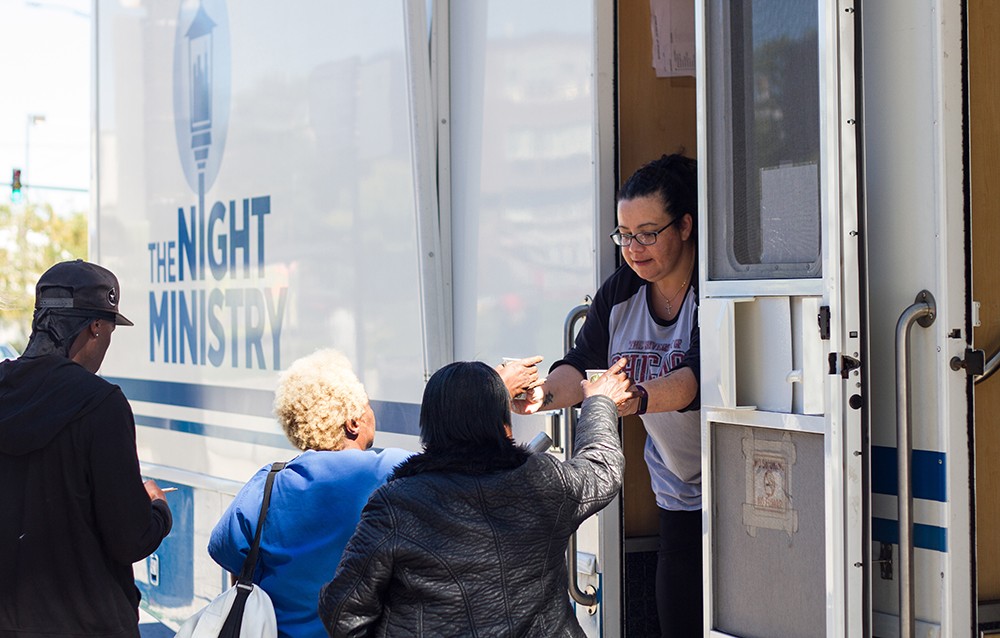 Every year, hundreds of volunteers contribute their time, energy, and passion to The Night Ministry's mission. Many inspired to give back by personal experiences.
Miriam Thompson, who greets clients on the Health Outreach Bus while serving meals and coffee, was drawn to The Night Ministry because she had experienced a period of homelessness.
"I look at the clients, and I know that at one time that was me and could be me again," she said. "I want to acknowledge them and let them know I care about them, and that there is hope for them."
Janine Landow-Esser was motivated to volunteer by her encounters with homeless youth on Chicago's North Side. For more than a dozen years, she and fellow congregation members from Anshe Emet Synagogue have prepared and served meals alongside the Youth Outreach Van on Thursday nights in the Lakeview neighborhood.
Landow-Esser said she resonates with The Night Ministry's emphasis on acceptance. "I love working with an organization that does so much without judging or pushing an agenda as a condition for receiving help."
A longtime donor, Henrietta Dombrovskaya started volunteering at The Night Ministry's Open Door Shelter – West Town after taking a tour of the facility. "Having been through some rough patches in my life, and having three grown children, I thought I could share some wisdom and lots of love with the young people there" she said.
"They took the time to write very precious words wishing me good health and a speedy recovery," she said. "It was just amazing."
There are plenty of opportunities to volunteer with The Night Ministry. Call (773) 784-9000 ext. 7012 or visit www.thenightministry.org/get-involved for more information.