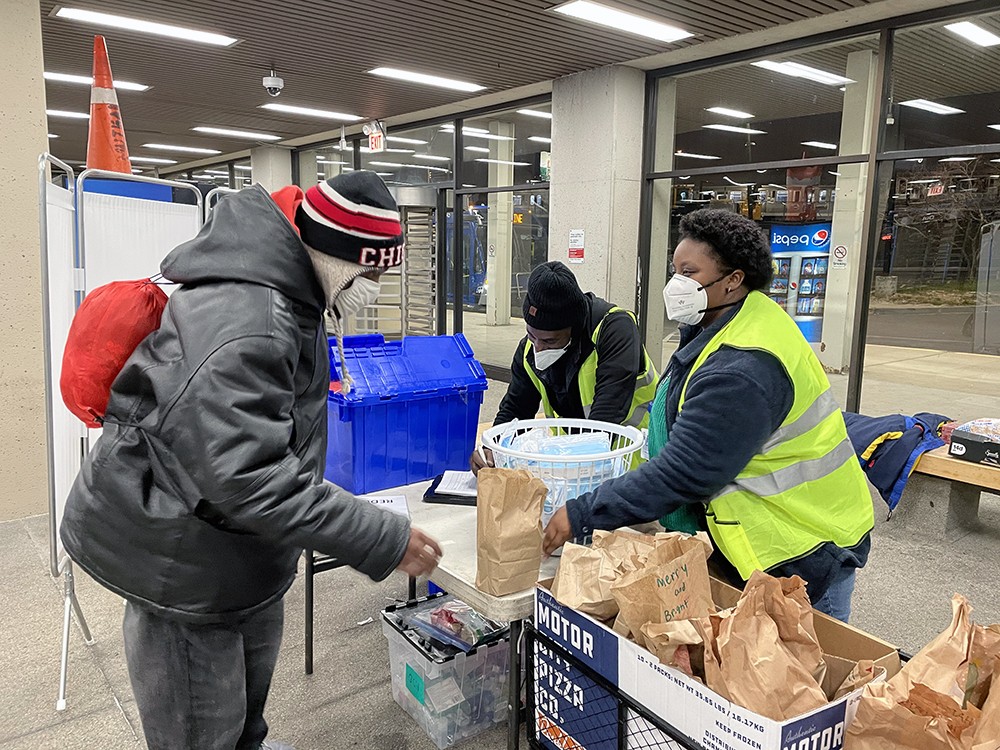 Overall ridership is down because of the pandemic, but for some members of the community, public transit offers more than just a way to commute. Many people experiencing homelessness ride trains and buses for shelter and safety. That is why The Night Ministry is now offering health care and outreach services at two CTA train stations two nights a week.
The Night Ministry first began outreach on the CTA last winter, but the scale and scope of what the agency can provide at the CTA have expanded because of funding from the Chicago Department of Public Health for a two-year pilot project.
"A team of a Medical Provider, a Case Manager, and two Outreach Professionals are at an end-of-the-line station on both the Red Line and Blue Line for four hours, late at night," said Mary Poliwka, Community Health Manager at The Night Ministry.
"At the CTA, we are offering the same range of services and resources, from health care and case management to food, hygiene supplies, and winter gear, that we do at the Health Outreach Bus or through the Street Medicine Team," Poliwka said.
The teams offer services on the ground floor of the stations. Security personnel contracted by the CTA alert riders of The Night Ministry's presence when trains come in and help manage the flow of individuals seeking assistance, ensuring proper social distancing.
Erin Ryan, Senior Vice President, said that the initial outreach The Night Ministry conducted at the CTA last year proved there was a need for services on public transit.
"We encountered many more people who were not utilizing the traditional shelter system and who were also not using the informal networks of support that exist in encampments," she said.
"The folks who are on the trains are not connected to either of those systems. They're really falling through the cracks. What we are doing at the CTA is very much aligned with The Night Ministry's mission to fill in those gaps," Ryan said.
The endeavor is involving direct service providers from across the agency. Staff from the Bus and Street Medicine staff are taking part, as are Case Managers from the Youth Outreach Team (YOT).
"We've pulled YOT into this work because engaging someone early in their experience of homelessness, especially a young person, is really critical to minimizing their risk," said Ryan.
"And it does take a special skill set to work with young people, so having specialists who can engage with youth who are on the trains and get them connected to age-appropriate services is important," she said.
Allison Boyle is one of the YOT Case Managers providing services at the CTA. She said in addition to offering assistance with ID cards and public benefits and links to further resources such as permanent housing, having compassionate interactions with clients is an important part of why The Night Ministry is at the train stations.
"On occasion people are willing to share, unprompted, what they're going through, and so even if it's just listening, that's still the human connection piece," she said.
"Realistically it can be such a long road from staying on the trains to being stably housed, so having somebody fighting in your corner and supporting you through it is so important."
The Night Ministry may make adjustments to services at the CTA as time goes on, Ryan said.
"The beauty of a pilot project is that we get to be responsive and flexible. So, we may make adjustments because of seasonable differences in ridership. We may experiment with serving different stations," she said. "Our goal is to make sure we are reaching as many people as possible who need our services."