1 minute reading time
(260 words)
Nordstrom Give-Back Brand, Treasure & Bond, Partners with The Night Ministry to Support Homeless Youth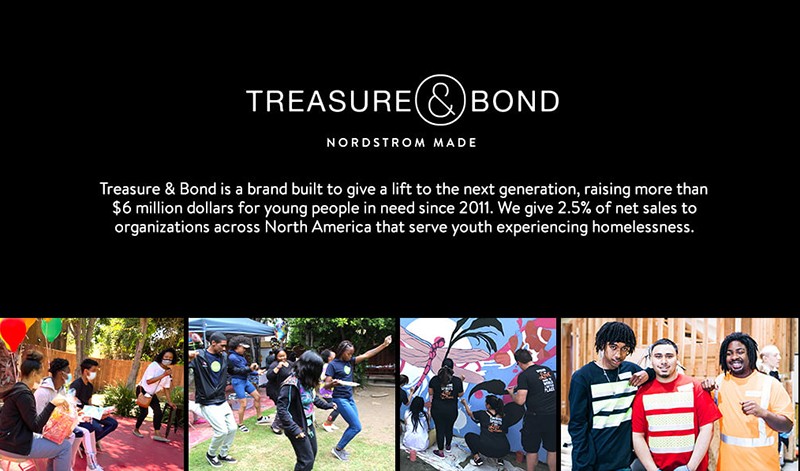 The Night Ministry is excited to announce that it has been chosen as a nonprofit partner of Treasure & Bond, a Nordstrom Made give-back brand that supports young people experiencing homelessness. Nordstrom is donating 2.5% of Treasure & Bond net sales to five organizations across the United States and Canada, including The Night Ministry.
"Nearly 17,000 young people experience homelessness every year in Chicago. The Night Ministry's youth programs provide safe, supportive housing and services that help hundreds of these youth every year, meeting their immediate needs while laying the groundwork for greater stability," said Paul W. Hamann, President & CEO of The Night Ministry. "We are grateful to Nordstrom for partnering with The Night Ministry to support the journeys of the young people we serve."
"Our new strategy of partnering with smaller organizations in specific regions allows us to connect with the communities where we do business in an impactful way," said Jennifer Jackson Brown, EVP, President of Nordstrom Product Group. "Treasure & Bond's give-back promise remains at the heart of the brand, and we're excited to show our customers another way Nordstrom is working to leave the world better than we found it."
The Night Ministry's youth housing programs range from overnight shelter and short-term housing to two-year transitional living and support for young adults in subsidized, market-rate rental apartments.
The other four Treasure & Bond nonprofit partners include The Ali Forney Center in New York City, Covenant House in Toronto, YouthCare in Seattle, and Youth Emerging Stronger in Los Angeles.
For more information, please visit https://www.nordstrom.com/brands/treasure-and-bond.