2 minutes reading time
(417 words)
Our Mission Remains the Same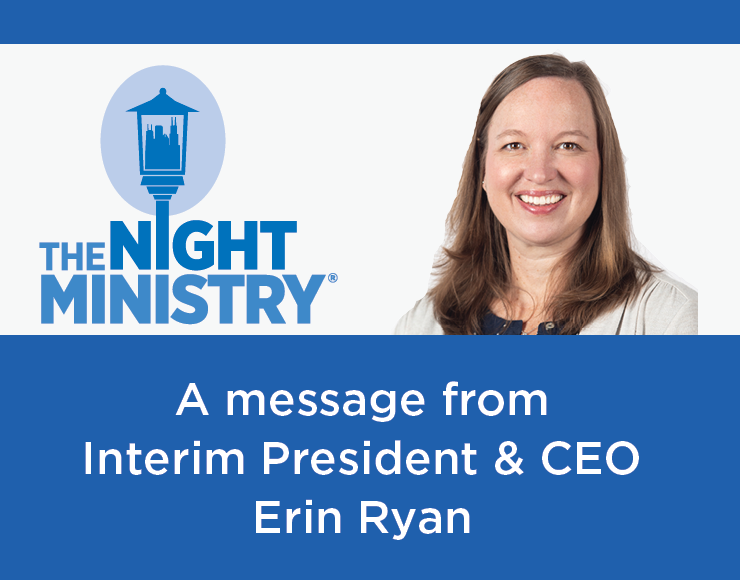 December 1, 2022
Dear Friends,
Last month, we shared news with you about a leadership transition at The Night Ministry. I am following up on that announcement to reconfirm the agency's commitment to its mission. Just as we have done for decades, The Night Ministry will continue to provide human connection, housing support and health care to those who are unhoused or experiencing poverty in Chicago. We are so grateful to have you as a partner in this mission.
While our Board of Directors undertakes a thoughtful and deliberate search for a new President & CEO, I am humbled and honored to step into the role on an interim basis. My experience as the agency's Senior Vice President has well prepared me for this opportunity. Over the past eight years, I have led the strategic development of our programs, ensuring that our services—through growth, innovation and partnerships—continue to have meaningful impact in the community and remain relevant and beneficial to the populations we serve.
I am joined in leadership by my colleagues on The Night Ministry's Executive Team: Vice President of Philanthropic Engagement Christy Prassas, Chief of Staff Traci Rivera and Vice President of Operations Terri Sharpp. Together they have years of service at The Night Ministry and bring vast and diverse experiences with organizational leadership to the agency. Along with our committed and engaged Board of Directors, we are keeping The Night Ministry focused on its mission and on moving forward with critical strategic initiatives such as our current strategic plan and our commitment to anti-racism.
Transitions can be challenging. But transitions are also opportunities to reaffirm values, take stock and grow. As we approach nearly 50 years of serving our vulnerable neighbors, The Night Ministry remains committed to deepening and broadening its impact and dedicated to being a critical component in our city's safety net.
Thank you for your ongoing support of The Night Ministry during this transition period and beyond.
With gratitude,
Erin
Want to read more stories like this? Be sure to join our email community!