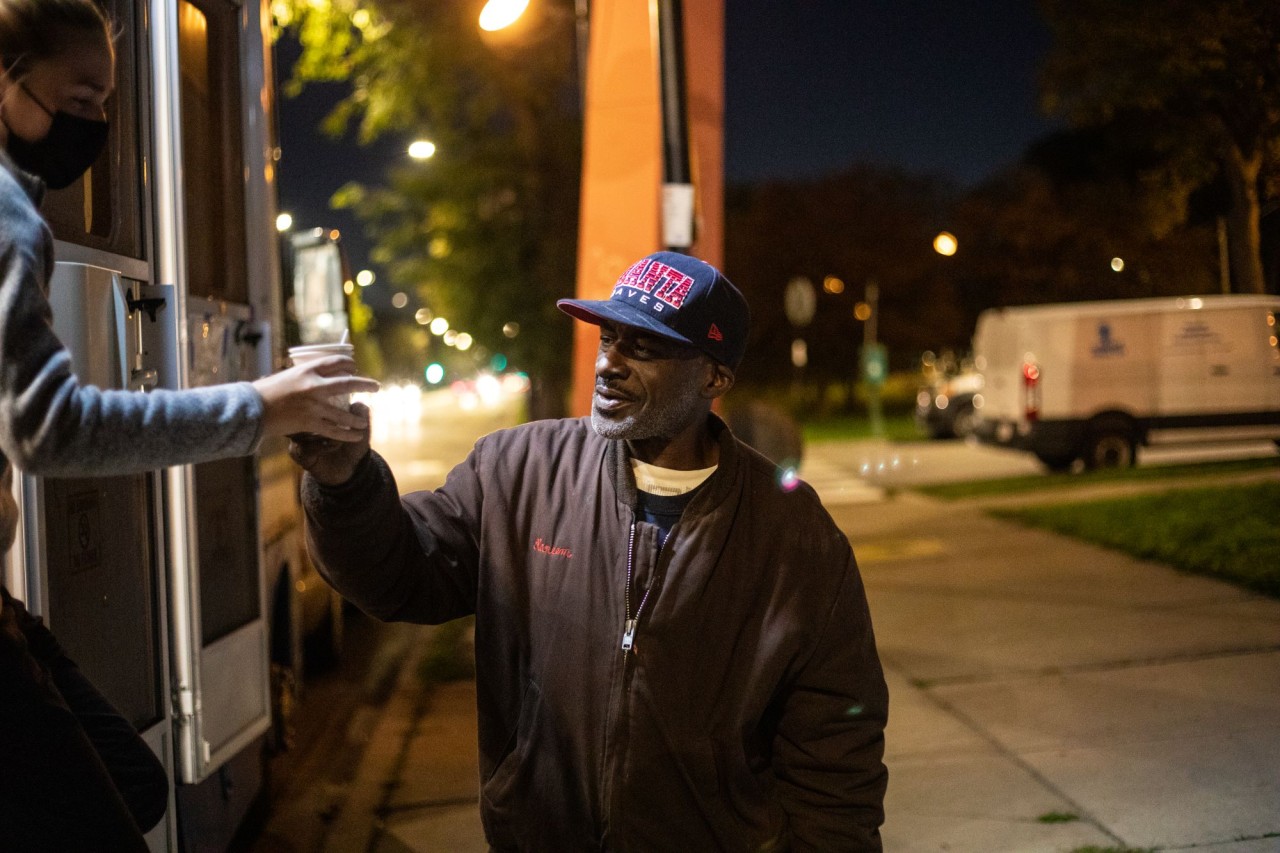 Finding a stable place to live, getting enough to eat, and receiving health care when they need it – these are the everyday concerns of many of the community members who visit The Night Ministry's Health Outreach Bus, according to a recent survey from the agency's Learning and Impact department.
The Bus travels to Chicago neighborhoods with disproportionate rates of homelessness and poverty, providing health care, food, and supportive services. By checking in with those served by the program each year, Learning and Impact gathers vital data that helps The Night Ministry ensure that the Bus continues to fulfill the agency's mission.
"The survey helps us find out from the clients themselves which of the services we offer they access and if they're being utilized ideally at the different stops," said Lead Case Manager Mirella Rodriguez. "By learning more about who clients are and what they experience, we can spot trends that help us adjust services."
While the majority of Bus visitors have some form of housing, over 40% of respondents shared that their housing situation is not stable, meaning they may be close to falling into homelessness. Most have at least one precarious housing factor such as not having a lease. Rodriguez helps eligible individuals apply for more permanent housing, along with benefits like SNAP, a federal program that provides monthly funds to low-income households to purchase food.
The Bus also offers meals at each of its stops. Hunger is a concern for 70% of Bus visitors, and all visitors report accessing food when they visit the Bus.

Though most visitors have health insurance through Medicaid or Medicare, approximately 20% shared they have no health insurance. Many reported chronic health conditions, including high blood pressure, diabetes, and arthritis. The Bus's medical professionals step in to fill in the gaps in their care, offering basic medical treatment at no cost.
The survey indicates that Bus visitors face income challenges. The vast majority were either unemployed or only worked part time.
"There are so many barriers our clients face when it comes to employment," Rodriguez said. "A lot of our clients don't have access to transportation, which makes it very hard to travel to areas with better job prospects. And, if they stay in a shelter or with friends or relatives, they may need to be home by a certain time, which doesn't easily fit into employers' schedules. Many don't even have a place to wash up to get ready for work."
Nearly three quarters of those surveyed identify as Black or African American and almost 20% as Hispanic or Latino, mirroring national disparities in income and housing inequities

Because the Bus brings services directly to neighborhoods, most visitors only needed to travel 10 minutes or less to receive its care and resources.
"We want to make our services as accessible as possible. Many of our clients, for various reasons, would not be able to get to us if we were not close by," explained Damian Nelson, Director of Learning and Impact.
Most visit the Bus multiple times a month and 91% shared they trust the staff. Nearly all said they are satisfied or very satisfied with The Night Ministry's services.
"It's easier to build longer-term relationships with clients if we see them more frequently. It opens the door to get them engaged with services like case management and medical care, allowing us to serve them on a deeper level," said Nelson.